encoCTA - Billing Statistics and Call & Traffic Analysis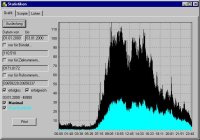 enco
CTA
used for technical collection and analysis of results within telecommunication systems.
encoCTA analyze incoming calls and the further actions like taking a call, busy subscriber and ineffective call.
Outgoing call activities are journalized in a similar way (for example the caller rings off before the successful connection establishment).
Frequency of used services of the telecommunication system (for example call diversion or conference) is displayed, as well as measuring of traffic at outside line.
The utilization of each line can be detected, whereas the data show efficiency of the line, as well as its possible shortages. The results are available in table and graphical form. encoCTA consists of three modules.
Graphical utilization
The first module creates meaningful diagrams for analysis of loads.
Successful and unsuccessful connections can be analyzed.
Furthermore, the utilization of bundles can be represented. It is possible to collect data of several bundles.
Utilization of particular destination numbers, i.e. all incoming calls of this number or the outgoing calls of one or several numbers can be analyzed.
The diagram can be presented with maximum and/or with average values.
Input of inquiry routines
In second module is it possible to insert scripts for further statistical analysis in different points of view.
Inquiry routines are assigned to preconfigured groups. The appropriate group can be activated by selection. Therefore, those scripts are clearly arranged and comfortable to use.
The result of inquiry is saved in a text file in table form and can be conveniently exported to external applications like excel.
Script Generator
The using of Script Generator in third module enables an eased creation of scripts in the database without programming knowledge.
These scripts can be saved and are available for the further using by appropriate users.
The analysis of scripts is possible, as well as transfers to excel.