Buffer for call data records

The encoBOX is placed between PBX and the computer for accounting. Therefore, this computer has not to be turned on permanently.
The encoBOX does not need any further software for configuration. Programming box within the encoBOX takes care of software updates.
Technical characteristics:

Box: 85 x 65 x 28 mm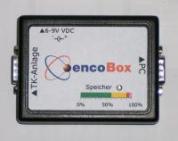 Memory: 4 MB Flash memory
equal to 33.0000 data records
(120 Bytes per record); on power
failure data remains 20 years in memory
serial Ports: 2 x D-Sub 9
power supply unit: 6-9V 150 mA DC
round male connector 5,5/ 2,1 mm
fill level display: using LED
With combination of encoBOX and encoPBX , we have created a reliable expense management for our customers.
For the first time this product was introduced to our customers on Cebit 2005.
Stichwörter zur Web-Site:
encoBox, HeliBox, HeliCall, serial memoryr, PBX, accounting computer, call data records, CDR, serial buffer,buffer memory, buffer, fast memory, temporary storage, cache, encoBox, HeliBox, PBX, data buffer, Telecom Expense Management , telecom expense collection, collection of , call data, call data storage, call data processing, phone billing, telecom expense storage, Helibox, datebuffer, RS232, RS232 Buffer, serial scratchpad memory, PC serial port buffer