Multiprocessing / Clustering of encoBill+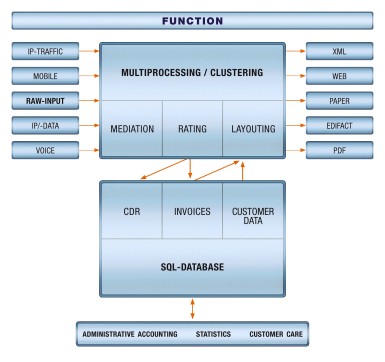 The mediation engine is now configurable and consists of different modules which can be stacked together as needed. Immediately after mediation the CDRs are rated now. This will give you the possibility to store actual invoices for every subscriber in the database providing a real hot billing and real-time statistics. Those instant invoices can be gathered by the subscribers over a web portal. Plus, you can make daily invoices, therefore you smooth the utilisation of your companies invoicing ressources like printing, dunning etc.
Layouting is the process, which creates and saves an XML file for every bill. It is possible to convert these files in to PDF, HTML or other kind of file.
The layouting process can be allocated to processors, which are normally used for mediation and rating, in order to reach high performance by creating vast amount of bills. Billing is not the matter of time any more but of hardware. If your company is growing, you need just to add new hardware and encoBill+ will be capable to process bigger amounts of data using the same time.